Our area equine population is built on a foundation of thoroughbred racing. We have seen an increase in other disciplines in horseback riding over the years. Disciplines like Hunter, Jumper, Dressage, and competitive trail riding have become the norm for our clientele. We offer a great deal of sports- related medicine including: pre purchase exams and lameness exams. Our diagnostic capabilities are cutting edge with digital radiography and digital ultrasoundography. New and ever-evolving regenerative medicine is also a service we offer including Platelet Rich Plasma (PRP), stem cell, and Interleukin-1 antagonist Protein (IRAP).
Lameness
Lameness evaluations are a significant part of our daily practice. We offer the time, expertise, and resources to help clients and their horses get back to work as soon as possible. Our diagnostic evaluations are tailored to the individual horse's area of discipline and performance needs. During the evaluation we identify the source of lameness using a combination of trained observation, experience, flexions, diagnostic nerve blocks, radiographs and ultrasound. We then propose a treatment plan and therapeutic options specifically designed to meet the needs of you and your horse. Our objective is to understand your goals and to rehabilitate your horse in the safest and most cost-effective way possible.

Pre-Purchase Exams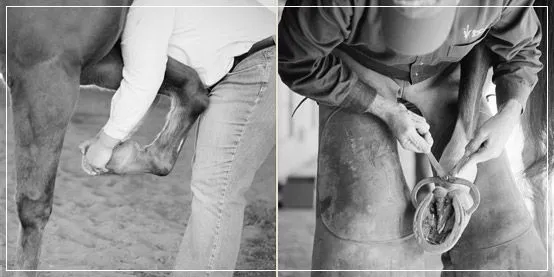 In addition to lameness evaluations, we perform pre-purchase examinations on all disciplines and breeds. The pre-purchase examination is designed to provide the buyer and/or seller with the most information possible regarding the horse. This examination assists both parties in making an informed decision on the purchase. The 'pre-purchase' can range from a basic exam to an extensive lameness and medical evaluation including diagnostics, dependent on the buyer's and/or seller's needs.